I call these "Bellagio Flowers" because they remind me of the gorgeous glass flower ceiling in the Bellagio lobby in Las Vegas. If you haven't seen them, you must the next time you are in Las Vegas! 
1. Gather your supplies: standard office transparency, alcohol inks, glitter glue, rhinestones, glue dots, circle cutters and/or punches, and a heat gun. 
2. Dye your office transparency with alcohol inks. Saturation of color is your preference. 

3. Cut varying size circles from your dyed transparency. For each flower you want to create, you will want three to five varying sizes of circles.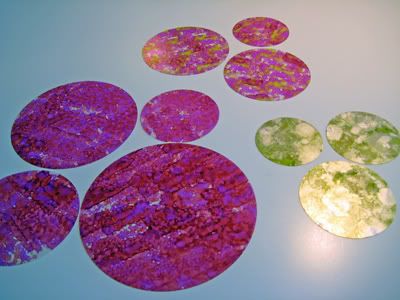 4. Warp each circle using your heat gun.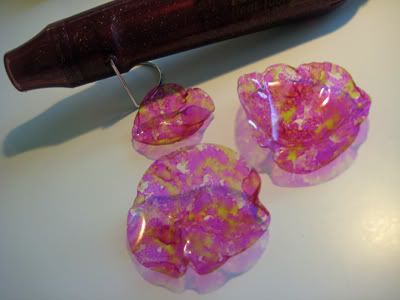 5. Stack your flower layers with the largest on the bottom and decreasing in size with each layer, leaving you with the smallest layer on top. Adhere each layer together with glue dots. 

6. If desired, color your rhinestone with alcohol ink. 

7. Add your rhinestone to the center of your flower. 

8. Use your flower on a project!