So it's my last
April Kit
reveal for
Birds Of A Feather
and I have to say, I LOVED this kit! But, no matter how much you may love the product on your desk, you may be stumped as to where to begin your layout. And this was my problem when I went to create these last layouts. I wasn't getting that "spark." So, I found myself surfing through
my Sketches Pinterest board
for inspiration. And, I found three awesome sketches that I used for creating these layouts. Once I had the sketches, coupled with the gorgeous April kit, these layouts came together quickly and easily.
The first layout is based on a sketch from Diana Fisher. I love the way the banner title turned out and the cut in half wood veneer circles. Just so you know, they cut pretty easily so don't be afraid to give it a try. I also had fun mixing both the My Minds Eye and Echo Park papers in the kit. They go together so well!
And here's a closeup...
For my next layout, I turned to a sketch from the fabulous Jana Eubank. I loved the layers on this one and again, mixed the two different collections of paper pretty evenly. I thought the woodgrain Echo Park paper was the perfect background for a park layout and I had to include the little tree sticker. I wanted the tree to have dimension, so I rubbed flour on the back of it to make it "unsticky" and then adhered it with foam adhesive. I also misted two of my three wood veneers with the Chalkboard mist. Love the way they turned out!
And here are a couple closeups...
My last layout is a two-pager based off a sketch from Susan Stringfellow. I am still trying to complete my own Project 12 from 2012 but I am also doing a Project 12-like spread of each month for Liam's first year album. That way, I have a place to put all the cute, miscellaneous photos of him that don't necessarily fit on another page. I pulled some super ancient Basic Grey chipboard alphas out of my stash and misted them with the blue Chalkboard mist to create my title. I also pulled some white Liquid Pearls out of my stash and used them to create my dotted circles. And, for the third time, I mixed and matched the My Minds Eye and Echo Park elements in the kit. Amy just makes it so easy to do that with her well-coordinated kits!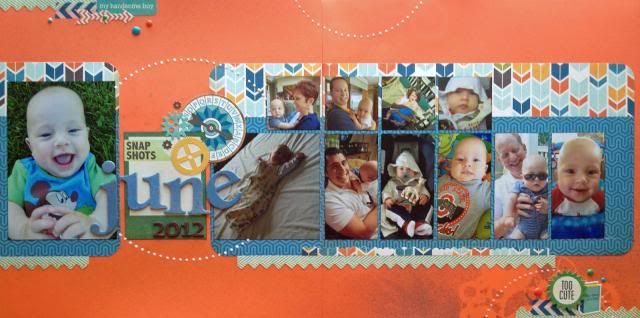 And here are a couple closeups...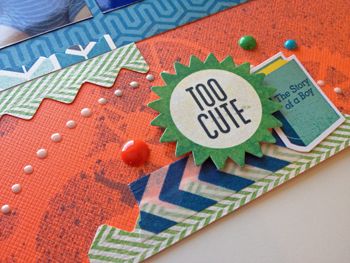 I hope these layouts inspired you to break out your April kit (if you haven't used it all up yet already)! And stay tuned...because May is just around the corner! ;)